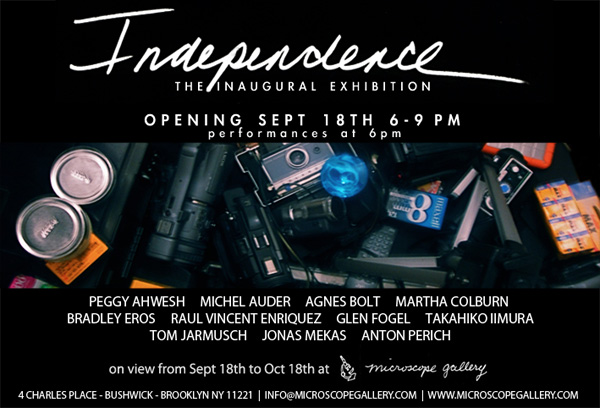 September 18, 6-9 p.m.
Microscope Gallery
4 Charles Place
Brooklyn, NY 11221
Curated by Elle Burchill and Andrea Monti
Independent – from theory, accepted technique, prevailing politics, economic considerations, or even equipment; working with film, video, or sound; and based in New York, this describes the 11 very different artists we present in our inaugural month-long exhibition at MICROSCOPE Gallery, opening September 18th.
It is the spirit of innovation and uncompromising vision that we celebrate in Independence with works by emerging artists to those considered revolutionaries of their art forms. The artists, some of whom have been working for 2 and 3 generations, just do what they do, year-after-year without concern for current trends or schools of thought, and in spite of the inevitable obstacles that arise.
Such concentrated focus often leads to new possibilities and it is not surprising that each artist also works in other mediums including sculpture, collage, print and performance. Independence offers the rare chance to see the range of these artists works on display side-by-side.
Featuring works by: Peggy Ahwesh, Michel Auder, Agnes Bolt, Martha Colburn, Bradley Eros, Raul Vincent Enriquez, Glen Fogel, Takahiko Iimura, Tom Jarmusch, Jonas Mekas, Sebastian Mekas, and Anton Perich.