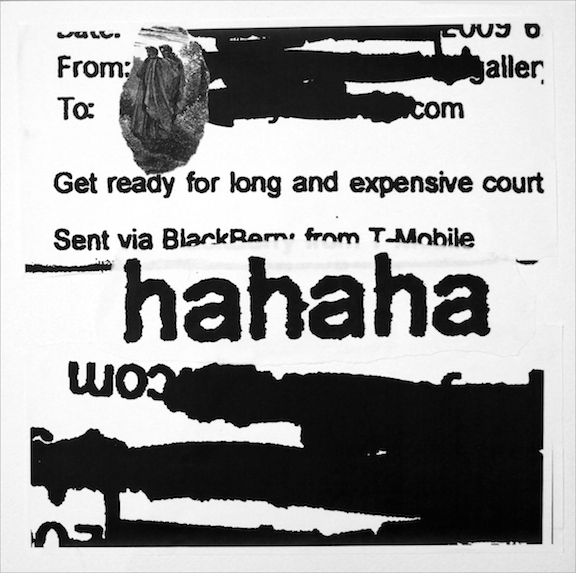 Outlaw: Letters from the gallerist to the artist (#3), 2013
xerox collage on paper
12 x 12 inches
Jonas Mekas
OUTLAW: NEW WORKS
June 27 – July 29
Opening Thursday June 27, 6-9 p.m.


I dedicate this Exhibition to all artists
who had to go or are going through long
money draining and annoying "dispute" trials with
their gallerists.
This show marks the occasion of
my own "dispute" court case concluding
its Fourth year.
– Jonas Mekas


Microscope Gallery is very pleased to announce OUTLAW: NEW WORKS, a solo exhibition by Jonas Mekas opening Thursday June 27 and continuing through Monday July 29. Mekas, who is internationally renowned for his work with the diaristic form in avant-garde cinema, poetry and more recently installation and photography, debuts in OUTLAW his new "OUTLAW Xerox diaries" and "acrylic & watercolor" diaries. The catalyst for the exhibition is the end of the 4th year of litigation of an artistic court case with a former gallery.

Inspired by the tedious legal process, the new artworks in OUTLAW also mark the first time the artist – a man who was captured by the Nazis after fleeing his native Lithuania because of his political writings and later in the 60s arrested for screening films deemed obscene (Jean Genet's "Un Chant d'Amour" and Jack Smith's "Flaming Creatures") – has been moved to present the sobering and often absurd reality of art and the law.

Works include a series of 12 black & white Xerox collages, OUTLAW: Letters from the gallerist to the artist, in which Mekas combines elements of email texts with imagery relating to Dante's descent into Hell. Fragments of Paradise, 12 acrylic & watercolor paintings on photographic prints, offer variations on Mekas' idyllic "frozen film frames", images which are composed from sequential 16mm film frames. In these works, the prints become the canvases on which the artist for the first time alters and enhances his previously captured moments of natural beauty. In addition, the new, short video, Sing. Sing to me, Blackberrybird, premieres on installation.


Microscope Gallery
4 Charles Place
Bushwick, Brooklyn
www.microscopegallery.com
–