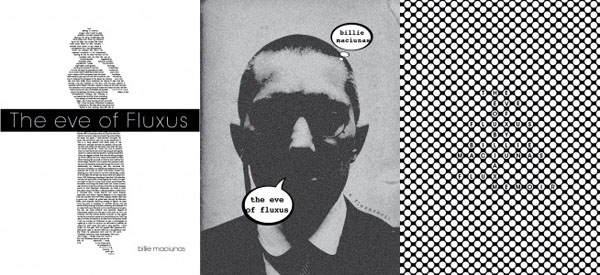 September 17, 6:30 – 9:30 p.m.
Emily Harvey Foundation
537 Broadway, 2nd Floor
New York, NY 10012
The Eve of Fluxus: A Fluxmemoir
Arbiter Press, Winter Park, Florida, 2010
A new book, The Eve of Fluxus: A Fluxmemoir, reveals the personal story behind the official history of George Maciunas, the founder of the 1960s avant-garde artists' group Fluxus.
The original Fluxus group created one of the most radical practices of the 1960s. The open, inclusive activities spearheaded by George Maciunas brought many of the most renowned figures of the late 20th century into the Fluxus orbit, shaping the cultural and philosophical milieu of the Twenty-First Century.
The Eve of Fluxus: A Fluxmemoir reflects Billie Maciunas' unique experience as researcher, poet, and witness through her marriage to George Maciunas to some of the most interesting art of our time. She is close friends with artists and scholars who have contributed to the book in the interest of unfolding the enigmatic personality of George Maciunas.
George Maciunas' still under-explored project and life is soon to become more widely understood and appreciated as a result of the acquisition by The Museum of Modern Art in New York City of the largest collection of Fluxus and Maciunas design in the US, The Gilbert and Lila Silverman Collection.
Book proceeds will benefit the Atlantic Center for the Arts in New Smyrna Beach, Florida.
The book, a limited edition, is available for $20 per copy (plus shipping) at www.eveoffluxus.com
Mail orders for The Eve of Fluxus: A Fluxmemoir (signed by the author) are available at
Billie J. Maciunas – 10152 Berry Field Ct. Orlando, FL 32821 or billiemaciunas@me.com