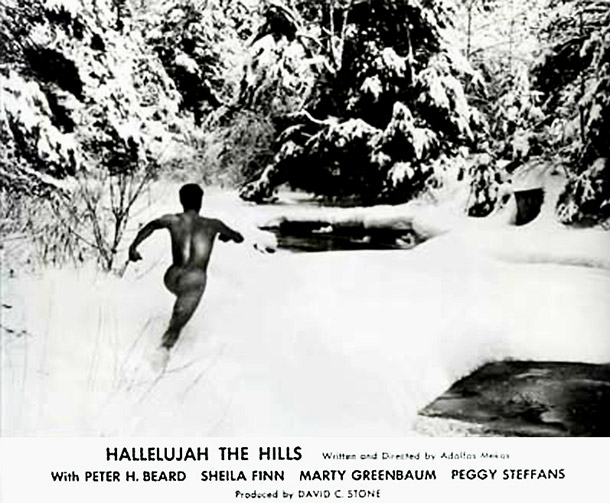 Monday, November 29, 7 p.m.
Microscope Gallery
4 Charles Place
Bushwick
Brooklyn, NY 11221
tel: 347.925.1433
We begin the holiday season, with a rare screening of Adolfas Mekas' "Hallellujah the Hills," one of the classic, radical films of the 60s New American Cinema. The 82-minute black & white lyrical comedy will be projected in 16mm film. "Hallejuah the Hills" involves the loose story line of 2 men in love with the same woman and "stars" Peter Beard, Marty Geenbaum, Peggy Steffans-Sarno (in her first film), Jerome Hill, Taylor Mead and Shiela Finn.
Adolfas Mekas, born in Lithuania, arrived in the United States with his brother Jonas in 1949. They founded "Film Culture," the magazine of independent cinema, in 1954. Adolfas Mekas's Hallelujah the Hills bears witness to his knowledge and love of cinema, as well as the immense freedom to be found in all the films of the New American Cinema.
"Imagine a combination of Huckleberry Finn, Pull My Daisy, the Marx Brothers, and the complete works of Douglas Fairbanks, Mary Pickford, D. W. Griffith, and you've got it. What have you got? A film which is both deliriously funny and ravishingly lyrical…." The Guardian, 1963
"Even avowed enemies of the New American Cinema, so called, were impressed by the film's lack of pretentions and its unexpected lyricism and Zen serenity in the midst of nervous parody." Andrew Sarris, Village Voice, 1963
"Hallelujah the Hills is a gloriously funny and far-out farce about two great big overgrown boy scouts who pratfall in love with the same girl. The weirdest, wooziest, wackiest screen comedy…a slapstick poem, an intellectual hellzapoppin, a gloriously fresh experiment and experience in the cinema of the absurd, the first cubistic comedy of the new world cinema." Time Magazine, 1963
"A satire on the American way of life, and at the same time a hymn to the joys of youth and friendship." Richard Roud
Admission $6, tickets available at door
Many thanks to Adolfas Mekas and MM Serra (Film-makers' Cooperative)