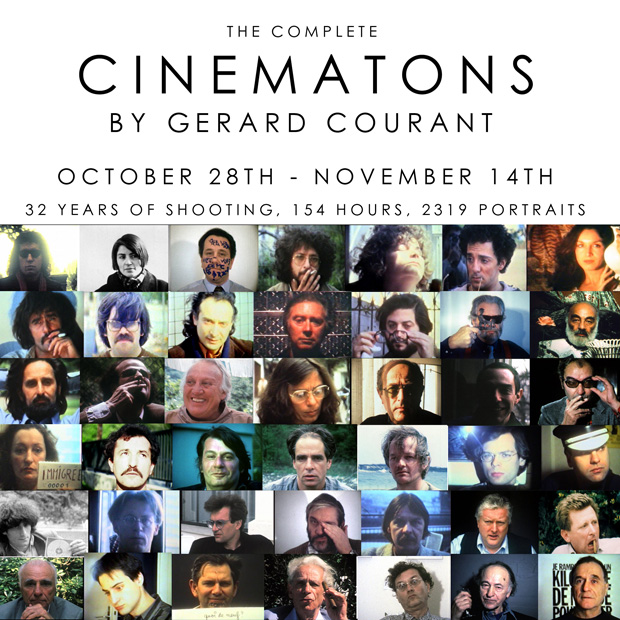 CINEMATONS

BY GERARD COURANT

October 28th – November 14th

Opening Reception on Thursday Oct 28th 6 – 9 PM
MICROSCOPE Gallery is honored to exhibit for the first time in the U.S., and in its entirety, the epic CINEMATONS, a 154-hour, more than 30-year project by French film-maker and cinephile Gérard Courant. An adventure begun in 1978 and running through October of this year, CINEMATONS is the longest film in history and features 4-minute silent portraits of the artists, directors and others who devote themselves to the art of cinema from renowned Hollywood director's to the avant-garde including: Jean-Luc Godard, Sergueï Paradjanov, Wim Wenders, Félix Guattari,Terry Gilliam, Samuel Fuller, Joseph Losey, Jonas Mekas, Peter Kubelka, Pedro Costa, John Giorno, Derek Jarman, Philippe Garrel, Lou Castel, Jean-Marie Straub, Danièle Huillet, Olivier Assayas, Ben Vautier, Robert Kramer, Michael Snow, Mike Kuchar, Jean-Jacques Lebel, Manoel De Oliveira, Raul Rouiz, Marco Bellocchio, Mario Monicelli, Ken Loach, Joseph Morder, Boris Lehman, Dominique Noguez, Jackie Raynal, Paul Sharits.
A propos, eminent philosopher Michel Foucault wrote: "It would be a mistake to think that Cinématon has to do with sadism or fetishism. There is no sadistic or masochist kind of link between the people that are filmed and the person that films them. It's rather a sort of suffering-pleasure. Pleasure to be in front of the camera. Suffering because you have to stay there. You could even argue that this suffering and this pleasure are inseparable, that they are not two qualities that complete each other but rather one and the same quality. This is of course wanted by those who agree to submit to the rules of Cinématon. The simple fact of agreeing to this game implies a certain will to chain yourself to the camera and, when the film is being shot, a desire to liberate yourself, to go, to abandon everything and say: Stop!".
A multi award-winning project, shot mostly in Super8 and continued later on in video, CINEMATONS is more than the longest film of the human history, it is the revolutionary, silent song of the ones who live for their passions.
We will extend our hours to project the entire work over 17 consecutive days, 9 hours a day from October 28 to November 14. Other works by Courant will also be on display.
Microscope Gallery
4 Charles Place
Bushwick, Brooklyn, NY 11221
www.microscopegallery.com
Tel.: (347) 925-1143